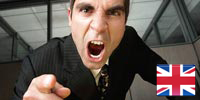 Stupid craps from managers: Maybe you know from your office as well
Inspired by funny series "Stupid craps" from VilarBrothers about dogs, pensioners, mothers, students, people from Prague, teachers….I was still missing something here. Therefore I decided to fill in this little gap. We will talk about managers, bosses, and superiors, who love to enjoy themselves by telling the stupid craps to their employees, even they do not believe in them by themselves, but they are using them arrogantly anyhow to make their ego even bigger.
It doesn't matter which area you are working in, you probably heard something similar at least from someone else or in a worse case from your own experience.
1. There are another 20 people waiting on your position outside.

2. It doesn't matter who has the right, I am the boss here!

3. Do you know who am I?! Do you know who am I??! So then  act according to that! 

4. I can't increase your salary, although I would really like to.

5. I gave you a bonus, so I expect from you to work even more and even better.

6. The biggest award for you is that you are allowed to work for our company.

7. I don't care that you are running out of time, I want to see that finished on my desk tomorrow morning.  

8. Before leaving for vacation please make your tasks in advance, so that nobody realizes that you are away.

9.  The fact, that you have a family is only your problem!

10. ...because it will be as I said!

11. A depression has set in, all the expenses are cutting down ….by the way, I need to select a brand new company car.

12. Why Did you do it this way? It is wrong. ….I forced you to do it this way??  And you do not have your own brain?!

13. Re-do it!  Remake it!  Re-word it!  Rebuild it!  Work it over! Make it over!

14.  What are you waiting for? For Yesterday?

15.  And who pays you, ha?
Slovak original: Blbé kecy managerov: Poznáte aj zo svojej práce


Related articles:

Types of "facebook animals": Which one are you?

Woman, you should avoid!

Why is it better to take photos of food rather than models?

Women don´t appreciate good men!
Autor: Myshoun / translation Dáška, 5.10.2016
Foto: ynaija.com